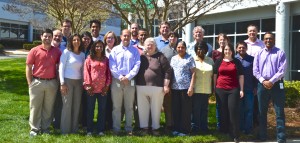 As an associate project manager intern at Anuva – and a University of North Carolina, Chapel Hill, undergrad pursuing a Bachelor's degree in Biomedical Engineering – I have learned an incredible amount in the past six months on the job. Far more than I could have gained in the classroom.
Six project-management takeaways from my exposure here at the product design and development engineering firm Anuva:
From Aaron Sorkin-style walk-and-talks to formal meetings with customers, any information-sharing time requires having a pen and notepad handy. It is not only a good idea but crucial to success in a fast-paced office. Technical jargon, acronyms (was that DMR or MRD?), and essential deadlines are not to be left to memory alone. Every time I leave my desk, you will find me with a mug of coffee and a pen.
Flexibility is not just for acrobats!
Working in a contract engineering and manufacturing firm means that deadlines and deliverables to the customer are the key markings of success. But what happens when parts take an extra week to ship or internal testing reveals that the circuit board needs another spin? Flexibility in task completion, while maintaining the customer's faith in the set deadlines, is a difficult and capricious balance. Although there is no way to teleport the plastic samples to manufacturing or magically will the circuitry into compliance, a good project manager develops a trusting relationship with the customer and plans ahead.
The sky is never the limit.
As an intern on the Anuva team, flexibility and willingness to learn new things are both key. In a given week, I will be leading a meeting, taking screen grabs of our latest mobile device application, editing documents, working in CAD to create parts for a 3D print, stamping and filing released documents, scheduling internal meetings, assembling prototype devices, training employees, and assisting in device testing. Whew. Not limiting my role in the company to just project management helps develop my range of skills while mutually benefiting Anuva.
Patience is the most respectable trait.
As a newbie to the tech world, there have been occasions when I got lost in the jargon and the scope of projects. I cannot applaud the engineers enough for their patience in bringing me up to speed and answering my questions. On the flip side, when introducing new employees to our project management system, I strive to emulate the patience I have been granted.
Mind the gap – the age gap!
Being the only millennial in the office, I look to the Anuva employees for guidance in everything from how to dress to tips on developing career goals. I have been so fortunate to find a group of role models and mentors who do not patronize my inexperience but rather help me grow as an engineer and project manager. This relationship allows me to bring in new ideas while also learning from and respecting the wisdom and experience of those who have been in the industry for decades.
Never bring lunch on Friday!
Developing social relationships with other employees while eating lunch at one of our usual Friday lunch places carries over to trust and respect in the workplace. There is much to be learned from colleagues' past work experiences, such as learning to shrug off failures and embrace new challenges and balancing of work, family, and a healthy lifestyle.
Working at Anuva certainly has been eye-opening, challenging, and never boring. To find out how Anuva can share your vision for taking on the impossible, please contact us today!