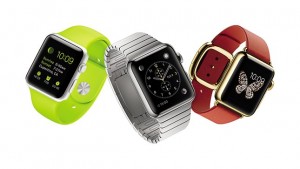 Time has arrived. After three years in the making, the Apple Watch will ship on April 24 (although even if you pre-ordered at 8:30 am EDT on April 10, as we did, the lower-end priced product isn't expected to ship until June). The much-ballyhooed weartech device that raked in 1 million pre-orders in the U.S. on its first day is worth the wait. That's because the Apple Watch, which features a custom operating system (WatchOS) and unique input methods, functions as a personal medical device and is anticipated to revolutionize the medical-device technology industry.
The Impact on Healthcare…
►Ushering in an era in which medical technology devices go mainstream. Apple Watch's body-worn tracking technology, which includes a custom heart-rate sensor that uses visible-light and infrared LEDs along with photodiodes on its rear, has huge value potential because of its foothold on the market. Switzerland-based Soreon Research estimates the wearable healthcare market was worth $2 billion last year and will grow 65 percent annually to exceed $40 billion in 2020.
►Saving money. Apple's HealthKit, a framework that houses healthcare and fitness apps, provides sensor-driven data sharing that can give users (and doctors and clinicians) a comprehensive health snapshot. This technology will eventually save healthcare providers millions by flagging ailments and changes in health patterns.
►Life-changing data-collection capabilities. The Apple Watch ResearchKit is a platform for app builders to capture and upload data from patients who have a particular disease. This will alter the way clinical trials are conducted in the future. The first five recently released apps developed on the platform are designed to study Parkinson disease, asthma, cardiovascular health, diabetes, and breast cancer treatment (details below). "With hundreds of millions of iPhones in use around the world, we saw an opportunity for Apple to have an even greater impact by empowering people to participate in and contribute to medical research," stated Jeff Williams, Apple's SVP of Operations, in a press release. "ResearchKit gives the scientific community access to a diverse, global population and more ways to collect data than ever before."
The Impact on Software Developers…
►Building new apps for the new operating system. That means that developers won't be able to simply create a "responsive" version of an app in order to transfer it to the watch, report industry experts.
►Developing new interfaces. Instead of having to pinch to zoom like a smart phone, a digital crown located on the right side of the Apple Watch body lets users zoom, scroll, and select elements. The digital crown also serves as a home button. "This dial versus tapping design requires new interfaces from an app developer's perspective," explains Anuva Senior Software Engineer Chris Martens.
►Creating more intimate applications. The Apple Watch is a different experience than using a smart phone. For software developers such as Anuva's Martens, that means the need to create apps that "people will use more often, though interact with less." The most useful apps will be ones that will supply regular notifications, personalized information, and feedback to other apps on larger devices.
What Apple Watch Is…
►A new sensation. Literally. Apple Watch includes "Taptic Engine" mechanisms that gently tap your wrist to alert you, which The Wall Street Journal tech reviewer Geoffrey A. Fowler says "is far more discreet than the rattle of a vibrating phone." Apple Watch also features pressure-sensing technology called "Force Touch" to distinguish between a tap and a press, enabling a range of contextually specific controls. Other built-in sensors measure health and fitness metrics. Movement information is relayed to two fitness apps installed on the Watch: Activity app provides a summary of your daily fitness levels; three "rings" represent calories burned, exercise completed, and how often a break is taken from sitting. The workout app displays metrics in real-time, such as time spent exercising, distance traveled, calories burned, and pace when working out. "It encourages users to set, meet, and beat fitness goals, and over time, it is able to suggest new, attainable fitness goals and act as a digital personal trainer," reports MacRumors. In addition, the Nike+ Running app is launching alongside the Watch, offering run distance, pace, location, and history.
►An emerging market. Although there are more than 1,000 Watch apps awaiting Apple's approval, only a few dozen have been available to test by beaming bits of information from a nearby iPhone to the Apple Watch. "The real Watch apps — the ones that may truly make you want an Apple Watch — are likely still months and months away," stated one review.
►A digital gatekeeper, letting users designate VIP status to certain contacts and specify which apps can trigger alerts. Alerts and information on the Apple Watch appear only when you need them, and then automatically disappear on their own (no need to dismiss them).
►A credit card. With Apple Pay, available at these participating retailers, you can buy anything from groceries to video games right from your wrist. The device has near-field communication (NFC) technology, so you can wave your watch near an NFC-equipped payment terminal to pay.
►A traveler's time-saver. Whether you need GPS while traversing a new city, to summon Uber, or to unlock your W Hotel room door, Apple Watch's sensors will streamline your journey.
What Apple Watch Isn't…
►The iPhone. Apple Watch has no Web browser, no keyboard, and no way to reply to emails (but you can flag and delete them). A button on the right side of the body lets users bring up a list of contacts to communicate by way of drawings, short messages, and emojis.
►A standalone device. You'll likely need a companion iPhone 5, 5c, 5s, 6 or 6 Plus running iOS 8.2 or later nearby for some of its functions to work. Not near the phone? When you're around a Wi-Fi hotspot, the watch can tap directly into it. What's more, according to Yahoo! Tech's David Pogue, "the watch can perform the most essential online functions even when your phone is completely dead, turned off, or absent. It can query Siri, for example, send and receive texts, and send/receive drawings and tap patterns to other watch owners. That's impressive."
What ResearchKit Can Do…
"Because the Apple Watch is worn on your wrist, it has the opportunity to collect more data," says Martens, "and you can get more accurate information without interacting." That's where the potential of ResearchKit's comes in. Five apps now available:
Asthma Health app, developed by the Icahn School of Medicine at Mount Sinai and LifeMap Solutions, will facilitate asthma patient education and self-monitoring. Apple says it will also "promote positive behavioral changes and reinforce adherence to treatment plans according to current asthma guidelines." The techno clinical trial will track potential symptom patterns and triggers to learn new ways to personalize asthma treatment.
The Share the Journey app, developed by the Dana-Farber Cancer Institute, Penn Medicine, Sage Bionetworks, and UCLA's Jonsson Comprehensive Cancer Center, aims to understand why some breast cancer survivors recover faster than others, why their symptoms vary over time, and what can be done to improve symptoms. The study is using a combination of surveys and sensor data on the iPhone to track fatigue, mood and cognitive changes, sleep disruptions, and reduction in exercise.
MyHeart Counts is another ReseachKit app developed by Stanford Medicine. It measures activity and uses risk-factor and survey information to help researchers determine how an individual's activity and lifestyle relate to cardiovascular health. Researchers hope to better understand how to keep hearts healthier through this intersection of information.
Massachusetts General Hospital's GlucoSuccess app will help researchers better understand how diet, activity, and medications impact blood-glucose levels. "The app can also help participants identify how their food choices and activity relate to their best glucose levels, enabling them to clearly see correlations and take more active roles in their own well-being," explains Apple.
Finally, Parkinson mPower was developed by Sage Bionetworks and the University of Rochester to help people with Parkinson's disease track their symptoms by recording activities through iPhone sensors. These include: a memory game, finger tapping, speaking, and walking. "Activity and survey data from your phone are combined with data from many other participants to fuel Parkinson's research at a scale never before possible, making this the world's largest and most comprehensive study of this disease," according to Apple's promotional materials.
For a full list of apps, please visit this page. The Apple Watch ranges in price from $349 (for the aluminum case Sport Watch) to $17,000 (for the 18-karat gold case Watch Edition). Want to try before you actually buy? Take an Apple Watch tour here.
The impact on healthcare, specifically medical devices, will be tremendous. Anuva is advising clients to consider the entire eco-system of connected devices. The Apple Watch will add another 1:1 contact with consumers and that should be considered when designing a product and the data that needs to be collected.
If you have questions on how Anuva can help you, come visit us at www.anuva.com or call 919-388-3360.